Seven tips to help your child with handwriting difficulties
by Ros Lugg, on Sep 7, 2020 10:25:48 AM
Learning handwriting is one of the most essential skills for a child's literacy development. With the rise of digital technology like tablets, learning this skill sometimes takes a backseat in a child's development. It's sometimes seen as an 'old-fashioned' or 'outdated' part of the curriculum, but research shows its continuing relevance to a number of different areas of the curriculum.
As we might expect, there are plenty of links with improvements in literacy itself. The research shows that teaching handwriting helps to develop three key areas of the brain. This contributes to the finding that children who practise handwriting do better at reading and spelling.

However, there are also studies which have shown improvements in other aspects. A study in the USA showed that children expressed more ideas when writing by hand, instead of using a keyboard. At older ages, it's been shown that taking notes by hand leads to greater understanding – even in university students.
There is even evidence that teaching the cursive style of writing leads to improvements in thinking skills and working memory.
However, learning this skill doesn't come easy to all children. So here are seven tips to help your child improve their handwriting skills and confidence:
Tip 1 - Hone and develop motor skills
Fine motor skills are crucial for handwriting, and if children don't have some preparation for it before they start school, they'll find the learning more difficult. Get them involved in as many practical activities as possible. Helping in the kitchen with measuring, cutting or mixing things will develop fine motor control. Include children in other household or gardening tasks - it's all beneficial to developing motor skills. What you don't want is young children continually interacting with a computer or tablet screen!
Tip 2 - Make developing motor skills fun
Review the toys your child plays with. There are lots of toys and games available that require fine motor skills. Some great examples are jigsaws (which are also good for visual skills), Lego, Duplo or just colouring activities – the 'old-fashioned' ones with paper and coloured pens or pencils!
Tip 3 - Develop a correct pencil grip
Known as the 'tripod grip', this is the correct way to hold a pencil and one that children need to learn early on. Provide one of the thicker triangular-shaped pencils in the beginning, as the triangular shape will help to encourage a correct grip. This is often more effective than rubber grips, which can sometimes be too bulky for little fingers.
Tip 4 - Provide a visual reminder
Demonstrate the correct grip and give your child a visual reminder.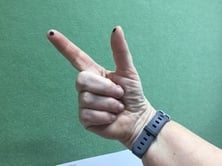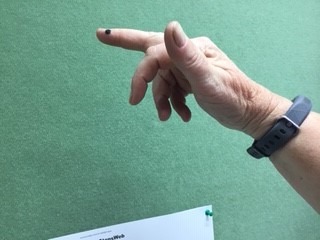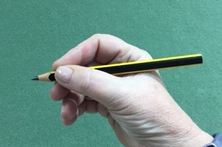 Draw a dot on the end of the first finger, another on the end of the thumb and a third in the middle of the first segment of your third finger. Then, when all three dots are covered over, your child knows the grip is correct. Make sure they're not gripping the pencil too tightly, as this will cause discomfort and make it more difficult to form letters correctly.
Tip 5 – Encourage a correct writing position
Get your child sitting at a suitable surface, which is not too high. Slant the paper slightly and encourage them to use their left hand to stabilise the paper as they're writing. Left-handers should use their right for stabilising, of course!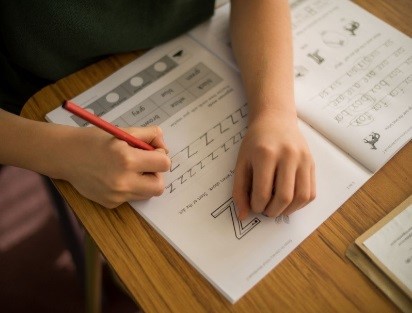 Tip 6 – Teach letters in shape families
Teach letter formation in shape families. This can help avoid difficulties, such as 'b/d' confusion. These are the letter families we recommend:

You can show your child that the letter 'a' has the same shape as the letter 'd'.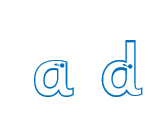 "Around, up, down."
Encourage them to say the movement out loud as they do each letter.
Tip 7 –Help them check letter formation
This letter formation check card (example below) illustrates the correct way to write each letter.Encourage your child to check before writing letters they find tricky.
Every time they guess and get it wrong, they're reinforcing the wrong memory. Every time they check and get it right, they're reinforcing the right memory. This is an important stage in making letter formation automatic.

Sign up for a free StepsWeb trial to download the full check card and to access loads of other handwriting and literacy resources.
It's all too easy to let handwriting fall by the wayside with the advent of tablets and flat screens. And it can be seen as low priority if a child has dyslexia or other learning difficulties. But handwriting is an essential skill that all children need to learn from a young age, as it has on-going effects on their development as they mature.
---
StepsWeb
Our leading online literacy program StepsWeb can help you develop or reinforce your child's spelling, reading, phonic knowledge, vocabulary, grammar and comprehension. Packed with a wide range of activities, worksheets and games – it's a great way to give your child plenty of practice through enjoyable – but highly effective - resources.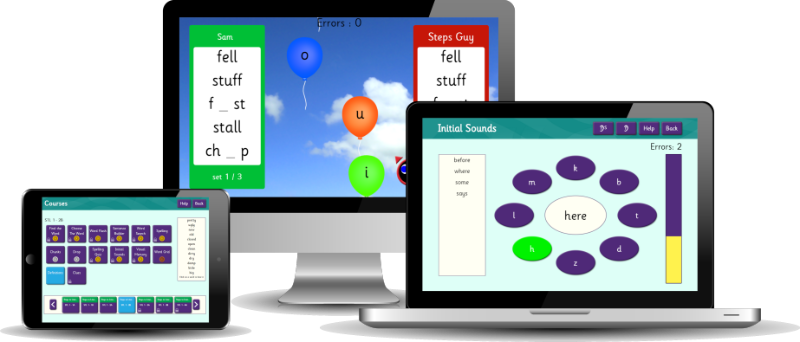 Sign up for a free 14-day trial of StepsWeb to access unlimited resources / activities to support your child's handwriting, language skills and literacy development.